Discussion Starter
•
#1
•
Hello all,
I sold my 1st gen and now would like to begin mods on my 2nd gen. I have a 10 series. I would like to upgrade the wheels to 17s. What offsets are recommended? I will not run any spacers. Here are the wheels I'm looking at.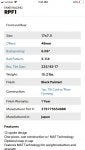 What diameter sizes are recommended and what is OEM diameter? I'm thinking of either the Enkei or Advanti since they are the lightest. The Motegis are 20 pounds. I was thinking of wrapping General Altimax RT tires with them.
My plan is also to drop the 2nd gen with NF210 springs. Any help is most appreciated.
Sent from my iPhone using Tapatalk