Discussion Starter
·
#1
·
As many of you know I have the seatcovers from Scion Shoppe. In fact, I have the first set they made for a Scion. They were called the Seat Cover Factory back then but the Scion industry has given them so much business that they have opened a division just for our beloved vehicles.
Rodney (hawiianbuilt) and I went out to see the factory in Oxnard yesterday and here are some pics of our trip.
The factory is located in a farming area and the sweet smell of cilantro was heavy in the air as we made our way through the fields.
We finally arrived and met the owner and employees of Scion Shoppe. It's a family run business with Dad, Mom, Grandpa and Grandma and the kids all working there.
Here's Jan walking through part of the stock department. Lot's of covers ready to be shipped to excited Scion owners.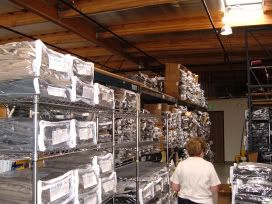 Here is the master craftsman Joe who is designing my door panels and working like a dog to get them completed before the Las Vegas Scion VIP show. He's a genius!
Here's Steve. He's in charge of sales and you'll be seeing a lot of him at our shows and meets. This is one hard working guy. If you see him at a show buy him a soda or something. Yes, that's Rodney drooling over the many styles and colors available for the seat covers!
Joe making sure everything fits just right.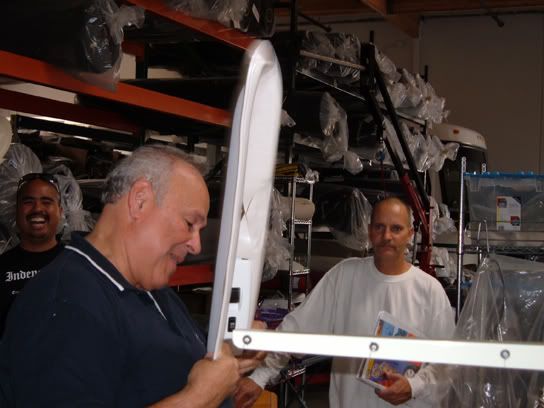 The machine that cuts out the seat patterns, it's awesome to watch!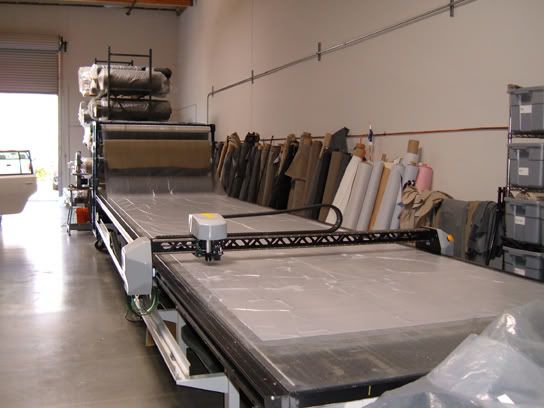 A lot of the work is done by computer and machine but not all of it....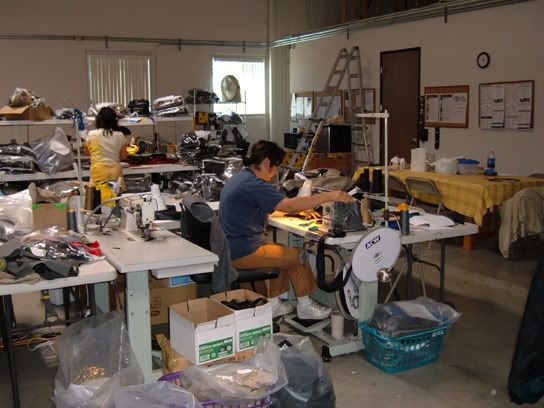 Lots of stock just waiting for your order.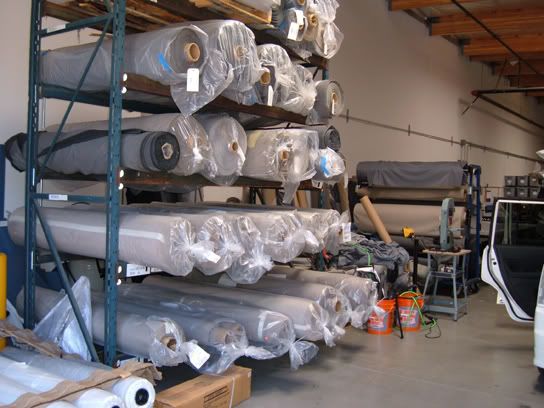 Showing off my engine compartment to Jeff the owner who is also a custom car buff. He's thinking about buying an xB for his daughter...do it Jeff!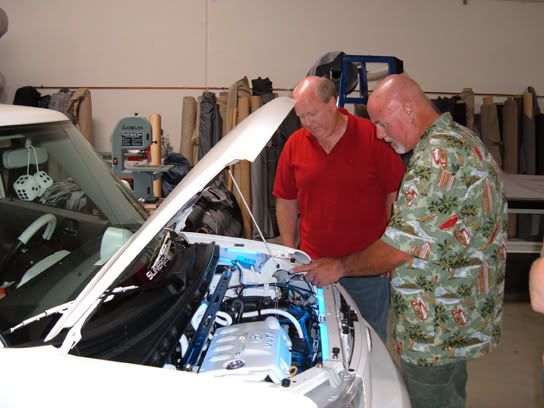 Getting closer to being done, everyone getting into the job.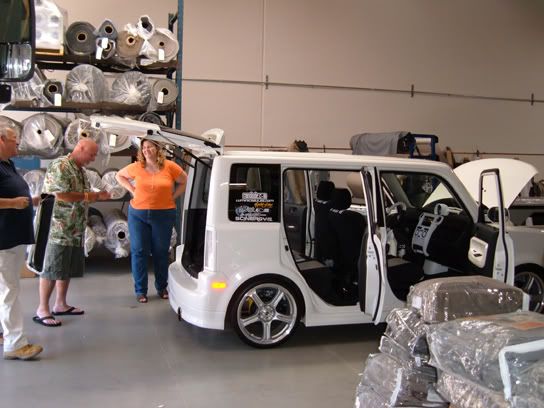 Rodney helping to get a panel installed, he's awesome with a screwdriver!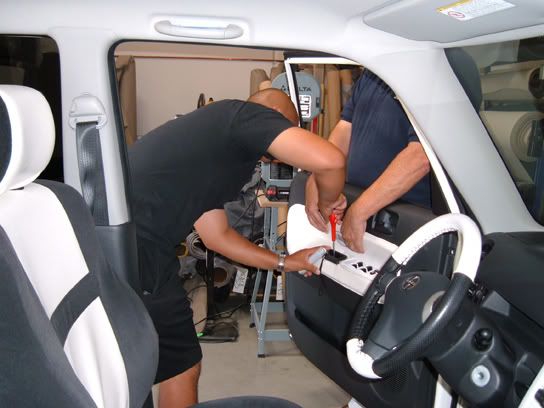 Joe proclaims victory! The job is done.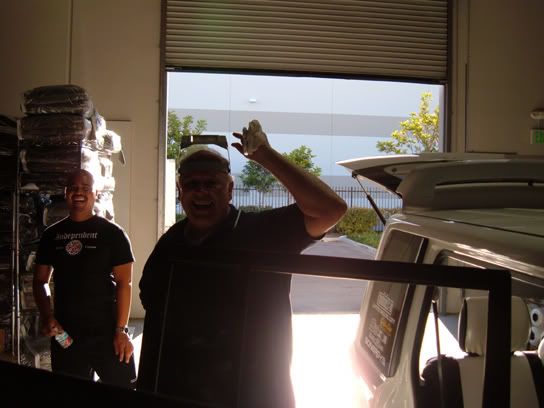 Here is the first complete set of Scion Shoppe door panel inserts anywhere and just in time for Vegas!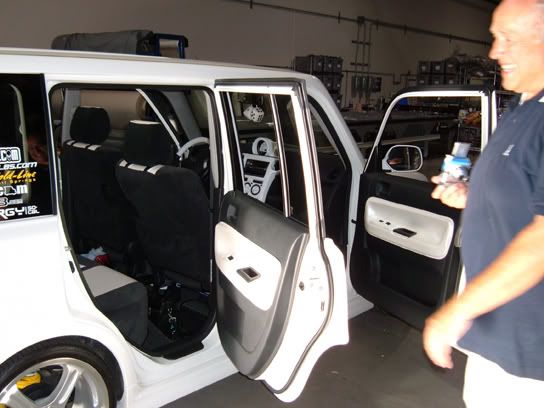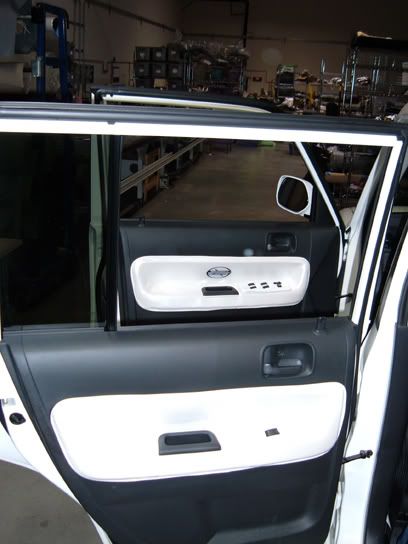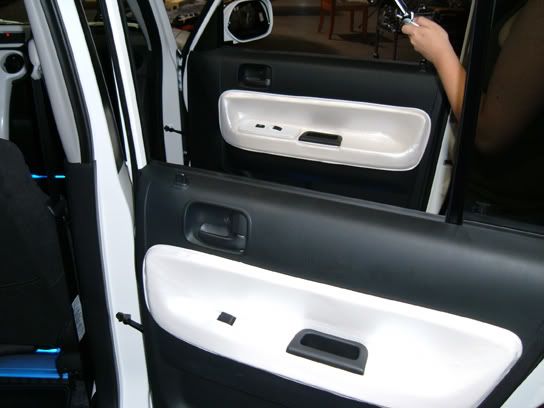 Even I got into the job. Joe had a little surprise for me and fabricated a first, one off rear hatch cover panel. It's made out of the same material as the door inserts and the seat cover panels.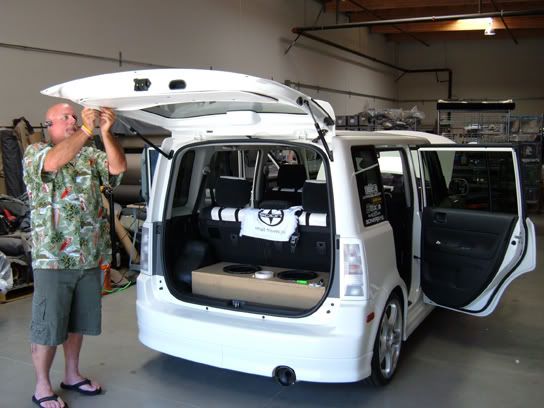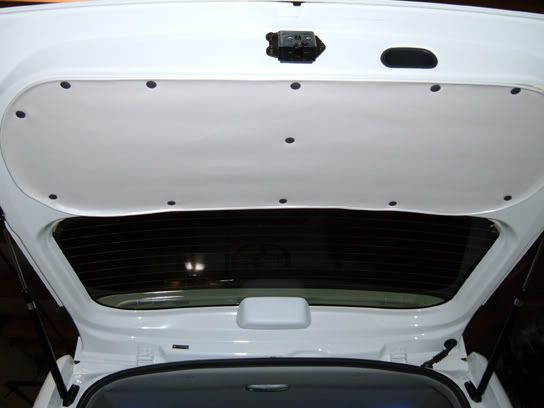 The banner I'll be sporting for Scion Shoppe in Vegas.
A job well done. After much work, planning development, trial and error and a lot of sweat, Joe has finished the first complete prototype of the door panel inserts. They will be available for order very soon. You can check them out in my Box at the upcoming shows and meets. I think you'll be as impressed as I am. Well, OK, maybe not this impressed...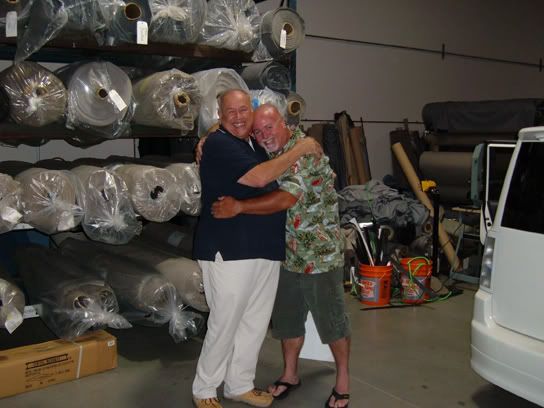 You'll dig them though.
Thanks to all the peeps at Scion Shoppe who made us feel like family and worked their butts off to have these ready for the NHRA Scion VIP show in Las Vegas. You all ROCK!
And special thanks to Rodney for goign with to make the trip that much more enjoyable. We give the Fried Pickles at Applebee's two thumbs up!