Scion Evolution - Orlando, KAD and Scion Dynasty are teaming up to having a Scion car show and swap meet at Old Town in Kissimmee, Florida on Sunday April 9th. Make your plans to be there.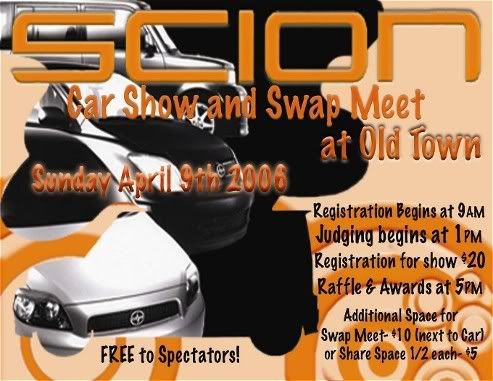 Registration begins at 9am and last till noon, trophies and raffle prizes at 5pm. Car show is $20 and the space next to your car for swap meet items is $10 or share a space with nieghbor for $5 each. Please bring scion related items only for the swap meet. There will also be a special vendors row area.
Old Town is a huge complex just a few miles from Disney and there is lots to do for the whole family: shopping, rides, restaraunts and more.....
http://www.old-town.com/index.shtml
Watch for more details, and a link to pre-register coming soon.