Discussion Starter
·
#1
·
I got an e-mail from Linear-Logic back on 12MAY'06, in response to a question I asked them a while back...
I asked, since strange things had been going on with distributors running out of the original ScanGauge, and some 'special' prices happening, if there was a new one coming out...
There is.
Here's their e-mail...
Tomas,

We apologize for the delay. I can finally tell you what has been going on.

We made the decision to solve the criticism we were hearing from people about the ScanGauge

by redesigning it. We had some problems getting the parts for the new product.

The new unit is called the ScanGauge II. It solves the following issues:

1) Size - The ScanGauge II is 1/4 the volume of the orignal ScanGauge. It is 4.8"W x 1.5"H x 1"D.

It is similar in size to a stick of butter and I can carry it in my shirt pocket along with my

cell phone and have room left over.

2) Display Size - Even though the ScanGauge II is smaller, the Display is 50% larger than the display

in the original ScanGauge.

3) Backlight Color - The ScanGauge II used multicolor Leds to allow you to select from 7 standard

backlight colors. White, Blue, Green, Aqua, Reddish-Orange, Violet, and Amber. If these are not

enough, you can blend the colors to make your own color. There are 127 different possible

color-intensity combinations.

4) Styling - The case was designed by an industrial artist and graphics by a commercial artist.

It is simple and modern in appearance.

5) Cable routing - The ScanGauge II has a detachable cable. It can be routed through smaller

openings and even left in a vehicle so the ScanGauge II can be moved between vehicles easily.

There are two sockets on the ScanGauge II, one on the back and one on the side. You can connect

it to either one.

6) Data Logging, Field updates and Computer Interface - A ScanGauge to USB adapter will be available

in August 2006. This, and the fact that the programming space in the ScanGauge II is less than 1/2 full

will allow for increased capabilities in the future.

7) Warranty - The ScanGauge II now carries a full 1 year warranty, parts and labor.

We tried to keep the price from going up any more than necessary. It ended up 31% higher. This is a

very small increase for so many added features and future expandability.

You can see it on our web site now at

www.scangauge.com

. We will be taking orders starting

Monday (5/15/2006). First shipments will start a week later.

Again, thank you for your patience.

Ron DeLong

Manager

Linear-Logic, LLC

"The Home of the ScanGauge"
LINK:
http://www.scangauge.com/
Just for interest, here are comparison pics of the old and new...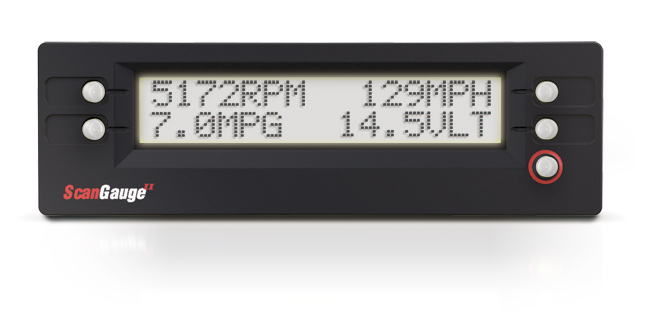 These things are really excellent tools that read (and can reset...) the Diagnostic Trouble Codes (DTCs) from the OBD2 connector on the bottom left of the dash. The things it can be set to display on a normal basis, like true MPH, RPM, and MPG alone are worth the cost. The trip computer functions are neat, too.
We seriously need some sort of 'group buy' or "CLUBxB Discount" on these things, if someone wants to try for it... I want one.