Discussion Starter
·
#1
·
What an awesome day! I got to meet some more long distance friends, Dion, Suzie, Sherri and her husband (sorry brain fart on the name). The rides were incredible to see and hear. Congratulations to George (kool b) for second place in the show! I parked right behind him, I gotta make a mental note not to do that again. I got to see Jason's new motorized wing, if there was an award for best unnecessary mod you my man would have won hands down. (just kidding). I got to see Amy take the 1/8 mile in her tC with God as her co-pilot. I saw Jeff (boxedup2) make his tach spin past the breaking point on his 1/8 mile run. Pat (cravin) had the best tint on the 1/8 mile and he's offered to help me install the new Goldline springs I bought there today. I won a Billet Grill for the Box. I was told it was for a Yukon but to my surprise it's really for an xB! So many new faces and rides, Cory, Pete, Bill, Robert, the list could go on but I'm too old to remember everyone's names. I'm sure Rodney will have some shots on here soon, but here is my favorite of the day.....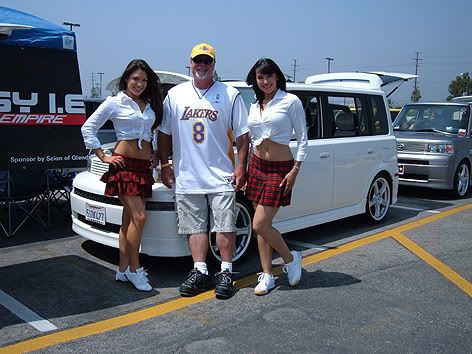 Feel free to post your favorites as well.
Thanks to Longo and all the sponsors for a bitchin' day! Can't wait 'til next year!