Discussion Starter
·
#1
·
I have been driving since 1976 and have never caused an accident. I have not received a moving violation since I was 18 (46 now) I have been driving a company van for 28 years and not had so much as a scratch. That all came to an end Monday evening in Brea. I was traveling west on Imperial Highway when the traffic in front of me began to stop suddenly. There were two Brea P.D. officers taking an accident report on the side of the road and they saw the entire series of events.
I started to brake and my speed was down to less than 20 mph. As I applied more brake I checked my rear view mirror to see what was coming behind me. I saw a lifted Dodge ram pick up truck that had no intention of stopping. I left my attention on him for about four seconds, just long enough for the cars in front of me to come to a screeching halt while I was not looking. You can guess what happen from there.
The officers took our information and one of them was kind enough to explain to my supervisor that there wasn't much I could have done, the line of cars in front of me had stopped with inches between them. The weight of my van was too great to stop in the short space left between the Toyota Camry and my van.
No one was hurt and the damage was minimal, the majority of damage was done to my van. The thing that really hurts is that the third vehicle in the collision was a Salsa Red xB! I felt really bad about him getting hit from behind by the Camry. I invited him to check out Club xB and hopefully he'll stop by.
Here's the pics of the damage. They were taken with my phone so please don't expect much!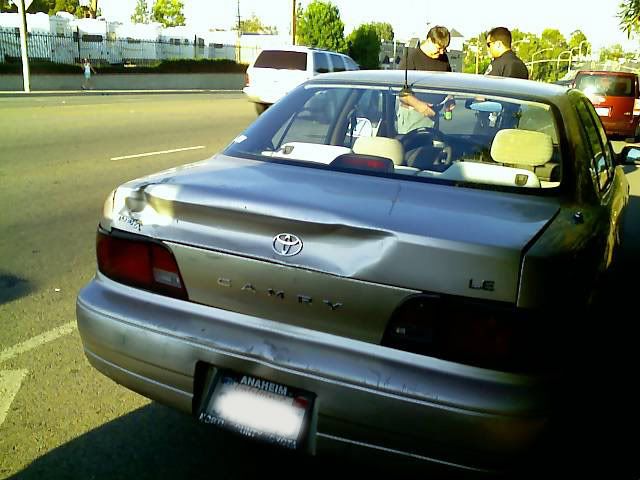 I had hoped to retire from at&t with a perfect driving record but that ain't gonna happen now. I can't believe how much this is bugging me. 30 years of driving without causing an accident and now this! It sucks!!!!!