Discussion Starter
·
#1
·
Hey everyone. My name's Kevin, and I've been a member here for a while, but never put up pictures of my Xb. I've had the car for 5 years and only recently started with the mods.
Well, the weather today was really nice for November, so I wash & waxed it... and decided to go ahead and snap a few pictures.
I figured now was the perfect time to go ahead and put up a thread with the pics along with some of the mods & feedback I've had since changing things around a little.
-----
I bought it new in March of '07 (the day before St. Patrick's Day to be exact) and drove it stock for 5 years. I finally paid it off in December '11, and in late spring of this year ('12) I decided it was time to put a little money in it for coilovers & a few other things. This is how it still looked this past spring.
----------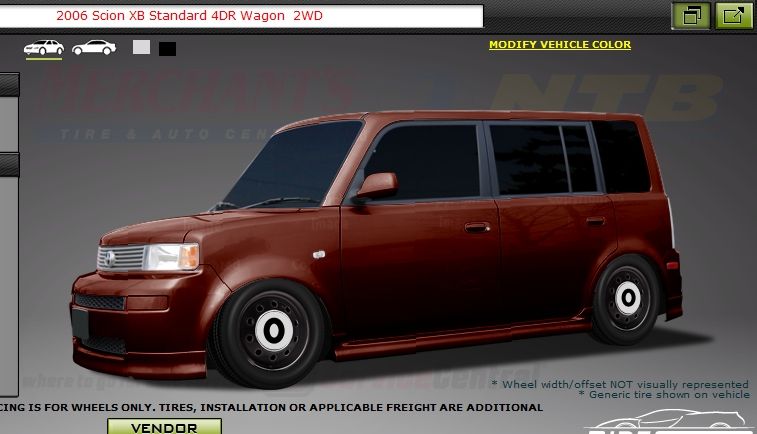 Sometime this past year, I saw someone on here post a wheel demo site where you could lower & swap wheels around. I set it to a 4" drop with stock steel wheels and then photoshopped on a set of center caps that I had in mind. I really like the look. Not un-driveably slammed, but the fenders still tucked the tires a bit. It had that old early 60's, forward raked, high school hot rod look my dad used to do when he was a kid. Exactly the look I'm into now.
----------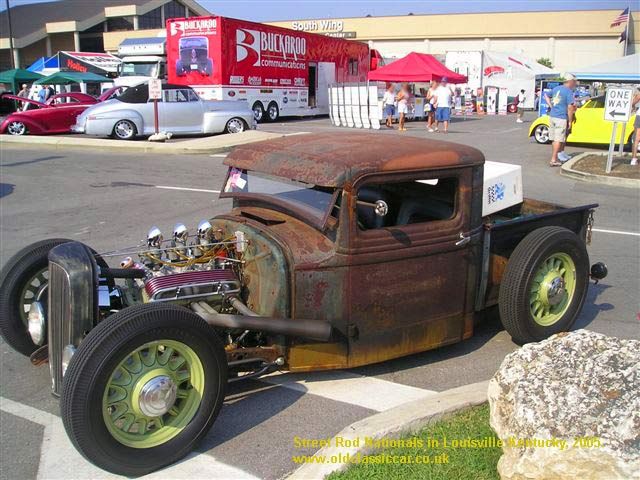 Ever since I was in high school, I've been obsessed with traditional customs & hot rods. I actually drove a mild custom '73 Plymouth in high school that was slammed up front with a split manifold & true dual exhaust on the slant 6 motor. It sounded like a machine gun doing down the highway, which was cool, but I always dreamed of an even older ride. Well, time went buy, I graduated college, got a job as a sign maker, & ended up buying a new car. The Xb's lines looked like an instant classic to me, so I got one. I'm 30 now, but I bet I would had loved to of had my Xb back then if they were around.
Well, a little while back when I was looking for ideas for my car, this picture of this old Ford really spoke to me. The coloring was similar to the range of the RS4's Torched Penny paint, and I've always been a fan of Plain Jane steelies & old artillery wheels with center caps. I knew this was the look to go with my car. I wanted to go with a darker green paint on the wheels and then figure out where to get a smooth center cap.
-----------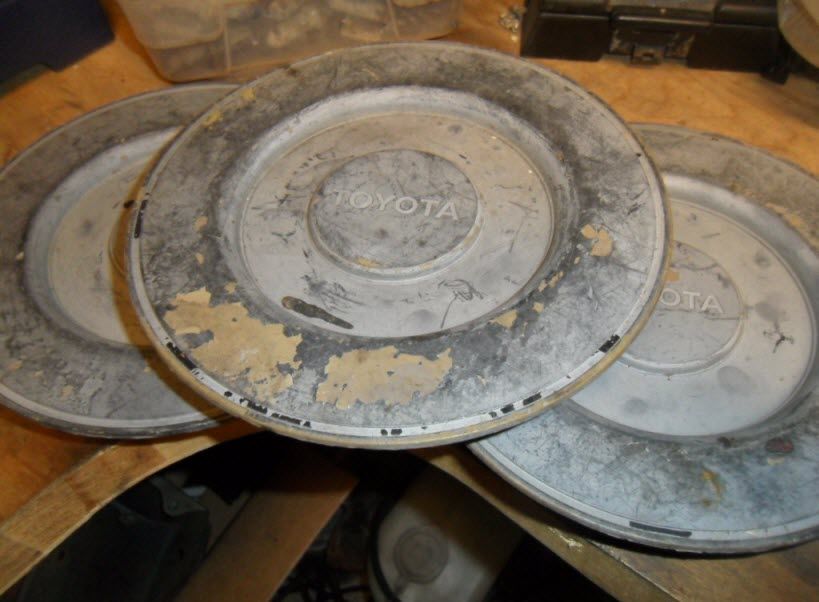 I kept an eye on the "center caps & trim rings" posts that have been on here for a while, but the options weren't quite right for my tastes. I did see a guy's thread that showed some old Tercel caps that fit over the wheel's center hub... so through trial and error, I bought several sets of caps on Ebay until I finally found a set that actually fit.
Well... almost fit. They're off an old Toyota MR2, but they required a lot of work to fit. I had to shave the Toyota script, trim the cap down about 1/2"-3/4", and then sand off the old paint before repainting them.
-----------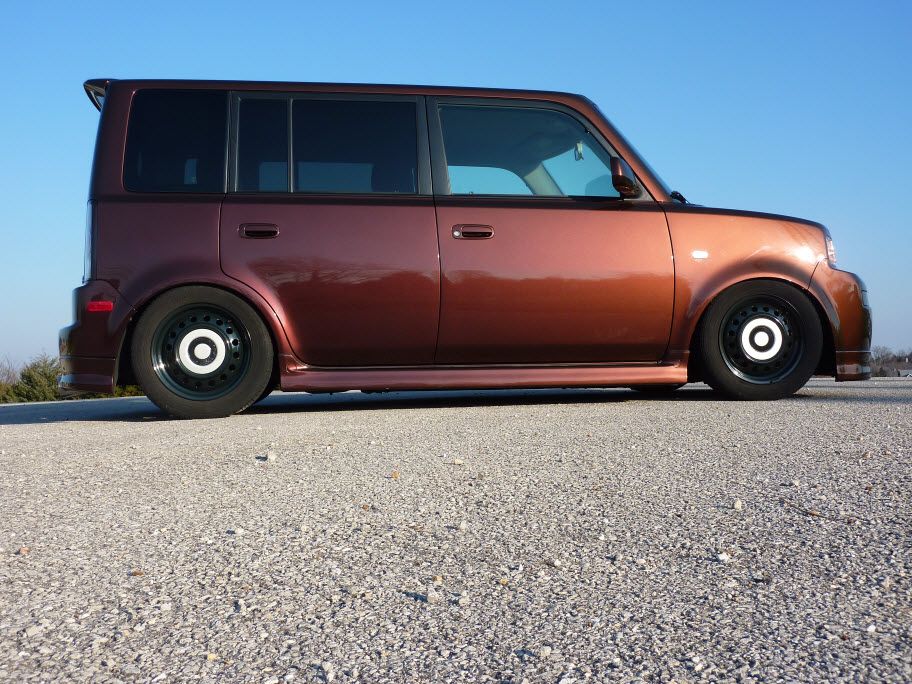 Lowering springs weren't enough drop for me, so I debated whether to get Raceland coilovers or Ksports. I ended up getting Ksports for a little under $900 off of the THMotorsports site with a good coupon code. The rear is all the way down with perches & rings still on... and the front is about 2 turns lower than how they were straight out of the box. It's about a 4-5" drop up front and about a 4" drop out back. I also installed a set of 2zero6 Factory 20mm rear hub spacers to push out the rear wheels a little.
It rides great IMO. Yeah, it's got the coilover noise, but it feels just right to me. Also, it's about a low as I'd want to go with stock tires, since I haul stuff all the time. The front bumper is 3" off the ground, so I avoid speed bumps & bigger-ish curbs, but it's just enough for everything else. I know it's not real popular with the Xb crowd, but I really like the forward rake.
--------------
The front tires rub & scrape all the time when I drive, but I'm good with it. My wife gets embarrassed when we turn in a store parking lot and the tires make all kinds of noise on the fender wells. And if I turn the wheels while pulling out of a driveway or parking lot that goes down hill... it's almost guaranteed to take little chunks out of the tires. hehe
Also, I had to redo my grill because of the crappy factory paint job. They didn't prime the stainless center bar, so as soon as you get a rock chip...the paint slowly but surely starts flaking off. I ended up taking it apart, painting the fig mesh a semi-gloss black, stripping the paint off the center bar, and then sanding it with 150 grit sandpaper to get the brushed stainless look. I sprayed it semi-gloss clear, but I've found that spray paint doesn't really hold up to bugs & rocks too well. I may get it powder coated clear in the future.
-------------
The rear is fairly simple. I didn't shave any emblems off... just lowered the coils with rings on the perches all the way down and added 20mm spacers. I'm thinking about maybe removing the rings, but keeping the perches in... not sure yet.
The exhaust is a whole different story. I kept it stock until this past summer when I had the stock muffler chopped off and had a 40 Series Flowmaster welded in with a different tip.
Well, a couple months back, I was driving home from a wedding 3 hours away when the rear exhaust hanger broke. The exhaust fell down and swung to the left. The exhaust tip was jammed against the lip and ended up melting a hole in the shape of the tip on the bottom edge of the lip.
I ended up getting the exhaust reworked after lots of YouTube exhaust vid searching. I had the stock resonator cut out and an Aero Performance AR20 resonator welded in place. I also also had a 4" stainless OBX resonated tip added to the back since the other one had melted bumper gunk all over it.
When I had all that replaced, other things got moved around a bit... so the exhaust pipe was smacking against the rear axle. I took it back, they added another hanger... but I think the front exhaust piping got twisted a bit and may have cracked the donut gasket at the manifold. There's an annoying leak now. Arrgghhh. Other than that, I do like how it sounds now when I'm rowing through the 5 gears... but there's just a touch of tingy-metallic rasp at wide open throttle with the 40 Series muffler, so I may try something else when I get the leak taken care of.... not sure yet.
------------
Like I said earlier, I only changed a few things to my taste. I haven't done anything to the interior... it's all business inside. I'm not into decorations or sound systems, so it's all stock in there. Just right for me. I use it as my work horse, so I keep things simple.
I mentioned that I haul stuff all the time... here's a couple examples of what I'm talking about. My wife and I redo & resell old furniture for fun. I like to redo old MidCentury furniture with a touch of modern flair. It's sort of the "60s High School Hot Rod" version of furniture. I call it Retro Mod.