Discussion Starter
•
#1
•
I used an
IBF4 (Intelligent Brake Flasher) flasher
because, as you can see from the photos, it's only about the size of a Reese's Peanut Butter Cup, sealed in epoxy, ergo waterproof, and CA DOT legal.
There's a DIY thread of Ben's, showing him installing an Oznium Third Brake light
here.
Here's a link to a
showing the IBF4 flasher on Tomas' xB1 with Oznium TBL.
First photo shows size of Oznium TBL with its 20 LEDs compared to the OEM TBL.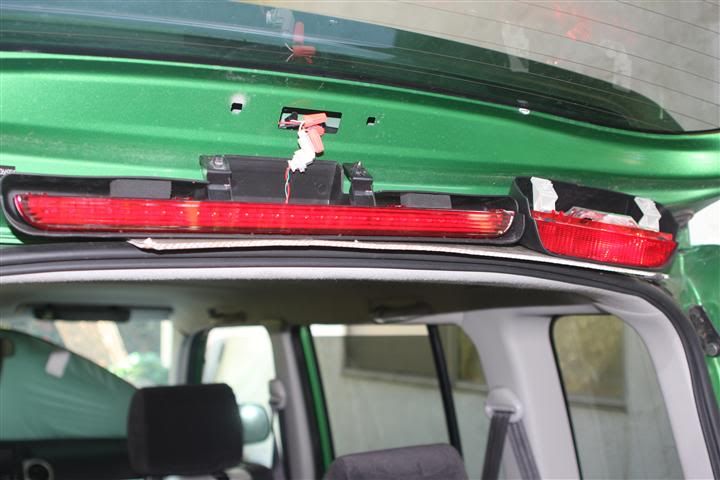 Second photo shows how the IBF4 is wired to the TBL. The wiring harness coming from the brake light switch brings +12V power into the TBL via a green/white wire. The other important wire is a white (-12V) ground wire. The blue IBF4 flasher taps the +12V green/white power wire with a red wire (in red circle), and feeds the power back out via a blue wire to the (cut) green/white leading to the TBL (blue circle).
---------- Post added 09-29-2011 at 11:46 PM ----------
---------- Post added 09-29-2011 at 11:48 PM ----------
Oops. Wrong photo link. This is the photo referred to in the previous paragraph.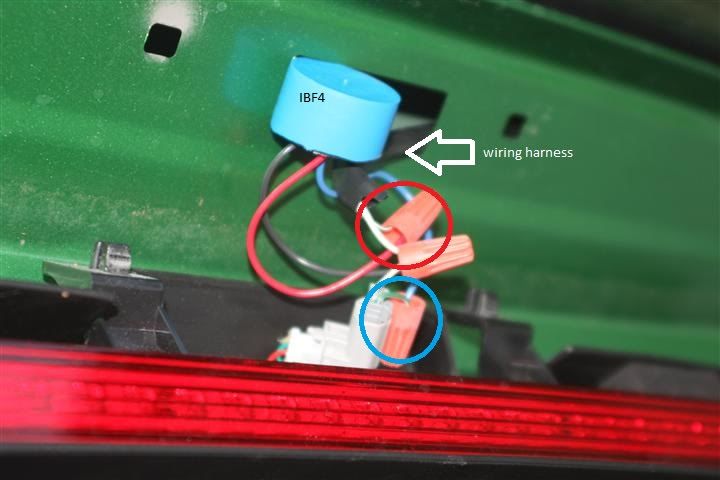 ---------- Post added 09-29-2011 at 11:58 PM ----------
You cut the green/white wire, connect the end from the brake switch to the IBF4 red wire, and the end from the TBL bulb socket to the IBF4 blue wire.
Next photo shows the IBF4 black wire connected to ground (the white wire running from the brake switch to the TBL bulb socket (black circle).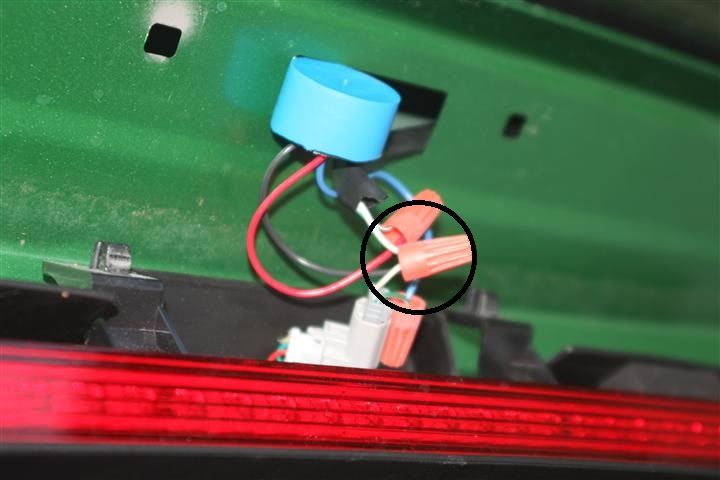 ---------- Post added 09-30-2011 at 12:13 AM ----------
Now that the wiring is completed, push the IBF4 flasher into the hatch door with the rest of the wiring. This is why I use the IBF4. Some other flashers are too big to fit inside the access hole as shown in this photo. The black circle shows the TBL bulb socket. The purple circle shows where the Oznium TBL plugs in - with a connector emulating a bayonet bulb base.
Wiring is almost tucked away in this last photo. Note it shows the black wire from the IBF4 connecting to the white ground wire.
---------- Post added 09-30-2011 at 12:16 AM ----------
That's all there is to it. A simple wiring job that's a 1 or 2 on a scale of 10.