I knew it was only a matter of time before my alarm install mishap came back to haunt me. But to be fair, it has been 5 months and a cross-country journey later before a problem has come up. As my new mantra goes,
it could always be worse.
This was relatively simple to deal with.
Especially when I have an awesome big brother that insists on looking over anything that concerns my car.
It really didn't come as much of a surprise when the amber bulbs that light up the HVAC controls and my speedometer in my '06 xB started to flicker on my way home from a friend's one night, recently, completely turning off by the time I reached my destination. At any previous point in my life, something like this would have caused me to have a panic attack and choose to park on the side of the road until help would come to my rescue. But I've come a long way and after having spent some time getting to know my box, it was simply a matter of thinking rationally over what I knew (which still isn't a hell of a lot, to be honest) and not getting worked up.
My first concern was to make sure that the headlights weren't cutting out, too, but it seemed they were unaffected. So that was good. Even at this early point, I had a sneaky suspicion that this might be a result of the wire I completely Frankenstein-ed when I installed the factory alarm system back in September. My suspicion was strengthened when the lights all came back on after I knocked on the underside of the steering column, in the vicinity of the wire and connector I had so horrendously molested.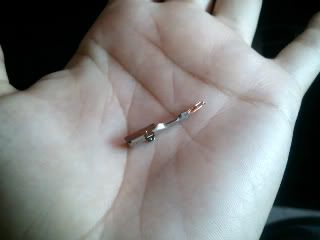 Said molested connector, picture taken 9/2011
​
Since I am now within a short driving distance to my favorite mechanic, my big brother who is constantly tinkering with his own cars, I shot him a text once I got home and requested his assistance for the next day.
And my suspicions were entirely founded, upon removing the panel from the underside of the steering column and finding this:
See anything familiar?
​
Yes, this is my handiwork. The product of my terrible attempt to splice a connector back to the corresponding wire that is apparently an integral part of my interior lighting wiring. Only someone like me could
quite literally
cut it this close.
But fear not! My brother is awesome and didn't want to risk me screwing it up beyond repair, so he took matters into his own hands.
And yes, I did protest this. I feel like I'm doing my readers and myself a disservice by allowing someone else to work on my car when I'm perfectly capable... but considering the original cause for this particular malady, I had to agree that it was best for him to work his magic.
After taking the pin out of the connector, he proceeded to pull all of the copper wiring out of it with pliers, one filament at a time. This was done so that he could recreate the actual connection between wire and pin, instead of trying to splice the mess together again.
The things my brother will do to help me out. <3
​
The actual wire to be connected was then stripped further back, and much neater than I had done, in order to clamp it to the connector pin. And then folded back to create a thicker, more substantial stem to clamp to.
Then the pin was clamped to the wires successfully, and the pin reinserted into the connector. To be safe, electrical tape was wrapped to secure all parts and to make sure no contact is made between the wires and surrounding material.
I circled the finished connector/wire that was worked on in red.​
And voila! Potential disaster averted and wiring failure corrected! Since this quick-fix, I haven't even had a flicker in my back-lighting.
So what did I learn from this little mishap, other than that it is absolutely amazing to have my big brother just down the road to help me out?
I learned that, as I've come to do and learn more on my xB, the easier it is for me to handle/deal/process when something unexpected pops up. And this will only get better as my relationship with my car progresses. This is yet another of the many reasons that I highly encourage any car owner, regardless of make or model, roll up their sleeves and become familiar with the in's and out's of their vehicle.