Difficulty:
(1-5): 1
Time Frame:
1 min
Here is how to reset your ECU without disconnecting the negative terminal on your battery.
This will work for those who have installed new parts, have gotten a CEL (Check Engine Light), and do not want to risk losing their trip meter settings, radio presents, etc.......
- Make sure the car is off and the key is not in the ignition.
- Open the hood and locate the "Engine Room Relay Box." This is the fuse/relay box in the engine bay. On the xA/xB, it is the black top box to the right (Driver's side) of the engine bay next to the strut tower.
- Take the black cover off and flip it over to read the embossed diagram. You want to look for the "EFI" fuse (NOT RELAY). On the xA/xB, the EFI fuse is 15 Amps.
On the xB, the EFI fuse is #12: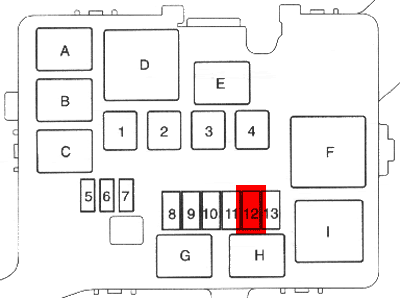 - Using the fuse-puller (white piece of plastic in the box), pull the EFI fuse out and set it aside for at least 30 seconds.
- Put the fuse back in the EFI fuse socket. Make sure it is properly seated, and is uniform with the other fuses.
- Replace the black cover.
- Start up the car, and you shouldn't pull another CEL (Check Engine Light).
- If you are successful in not pulling a CEL, I recommend you let the car for 5-10 minutes for good measure.