Discussion Starter
·
#1
·
I didn't know where to put my first DIY project, so I hope this is the right place.
I am starting out small and then I will work my way to the bigger stuff in due time. I painted 2 of the 3 control knobs (I couldn't get the middle one out so I will do that one later) in the middle console with silver glitter painted and added blue and silver rhinestones for accents. I will be putting on the clear coat once it dries a bit more.
I know it sounds "girlie", but it is all going with my theme idea (think lights, disco balls, glitter, sheer curtains, etc
). It's not a big deal, but I did want to share cuz I was so excited and please don't laugh at me (or I'll have to kick your @$$!
).
Sorry, this is the best pic I could get, but you get the idea (it looks better in person):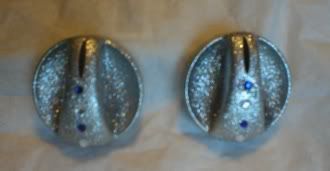 More projects to come in preparation of
the
"Go-Go Box".