9-24-06: Update: sdsnybny and noservice2001 have located a direct replacement LED. You can find them at:
http://autolumination.com/74.htm
about 1/3 down page neo wedge led's.
If you order these instead you don't have to rewire the lamps. Just pull out the old ones and put in the new ones. Remember, you still need both bulbs in to complete the circuit so they light up. (Plus they have polarity so one must have + up and the other needs - up.) If you use this method get at least two LEDs (I recommend a third in case one is bad). Use these instead of the T 1.5 LEDs. You also won't need the sandpaper or the pliers. Looking at the pictures the light doesn't appear to be quite as even as mine, but it is a lot easier to do. Good find guys!
Original method:
Before beginning you will want these items:
T1.5 Instrument LED bulbs from superbrightleds.com
(You need 2. I recommend ordering an extra one or two in case you screw up. They were $1.79 each + shipping when I bought them)
Phillips head screwdriver
Flathead screwdriver
Needle nose pliers
Some medium or fine grade sandpaper. (Or a nailfile for you other girls. Works great)
Patience and a steady hand
I also advice making a poor man's LED tester with a 9 volt battery and 2 pieces of wire about 4 to 6 inches long. Strip an inch or so off each end of each wire. Wrap one end of each wire around a battery terminal. Don't let them touch. Do not allow the other ends of the wires to stay in contact for a long time. (The battery will get real hot and ground out. Do not store in a way that allows them to touch.)Ta Da! Instant LED tester. Just touch each wire to one of the metal bits on the top of the LED. If it doesn't light up then switch the wires (because of polarity). Here's a 'pic of my tester: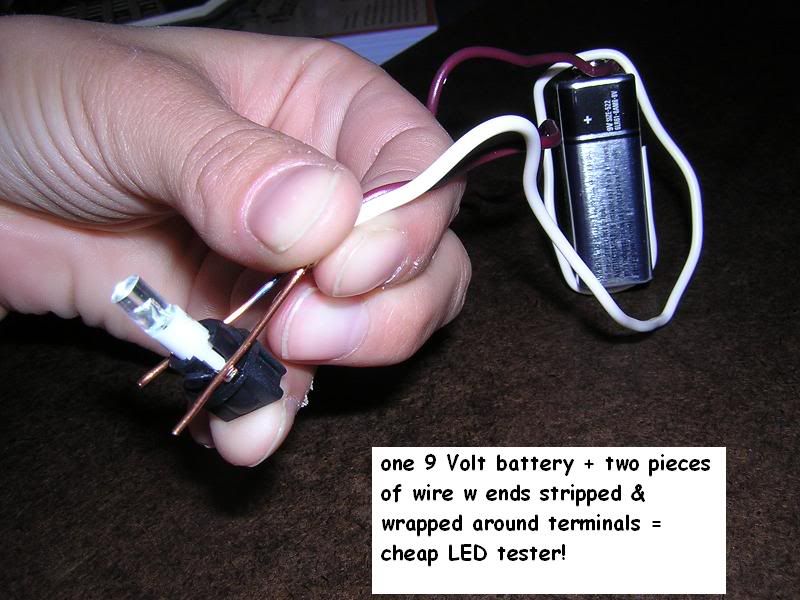 Ok now, xBassist on SL did a wonderful write up on how to take apart the dash and get to the bulbs. Great pictures and everything. If you've never done this before I suggest reading that part of his DIY. You'll find it here:
http://www.scionlife.com/forums/viewtopic.php?t=11283
Let me explain. No, there is too much. Let me sum up.
1. Pull off the three silver knobs. You'll find screws under the outer ones. Remove with Philips Screwdriver.
2. Pry off bottom left corner.
3. Once loose, pull around all the edges until the entire piece pops off.
4. Disconnect the three wire looms.
5. Remove the entire piece. Looks like this:
6. Flip it over. You'll see this:
Ok now, here's where I differ from xBassist's original technique.
See the gray circles I circled in red? Them be the lights. Using your flat head screwdriver give each one about a 1/4 turn to the left. (Lefty loosey, righty tighty) They should pop right out.
See how the wire tail is wrapped around the base? Use your pliers to unwrap the wire tail. Straighten it out & remove it from the base.
(Had to use an after 'pic of the base w the LED. Wires still look the same)
DO NOT DAMAGE THE BASE! Set it aside.
Next grab one of your shiny new LEDs. Pull it from the base. You should now have this: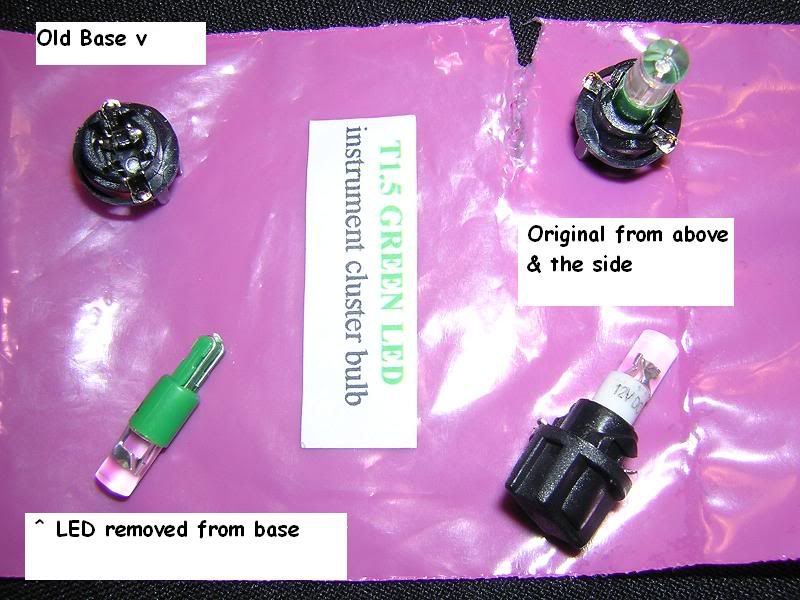 Straighten out the wires like this:
See that blue part sticking out between them? It's 'gotta go. CAREFULLY spread them apart slightly. Do not break their connection to the base! Use your pliers to grasp the blue piece then bend it back and forth until it snaps off.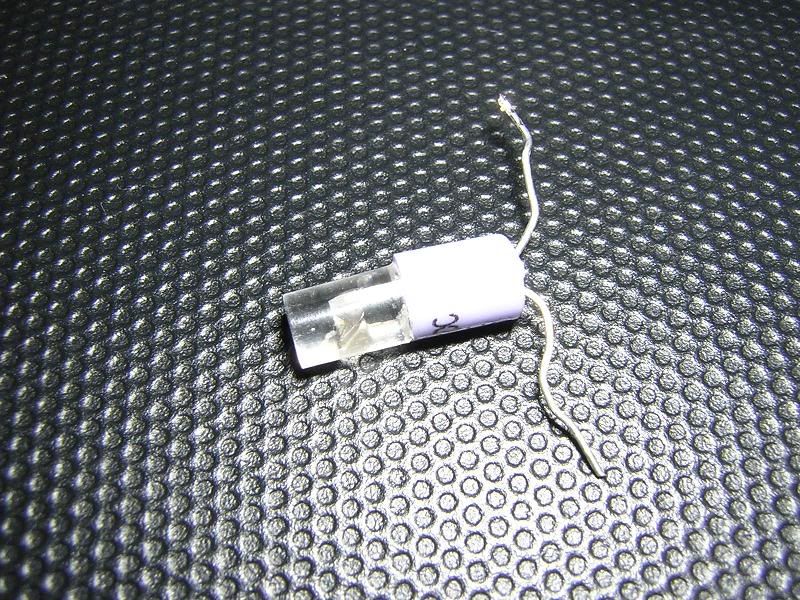 Straighten out the wires again. (This is a good time to use that tester.) It should now look like the altered LED pre base below: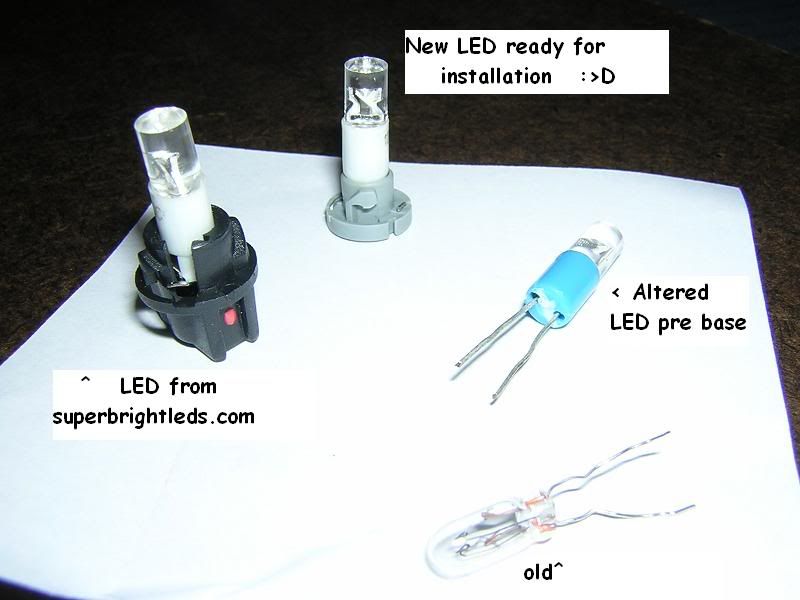 Now, simply insert your LED where the old bulb was and wrap its wires up through the notch and press them flat. (Exactly how the old bulb was. Note the wires point in opposite directions) It should look like this: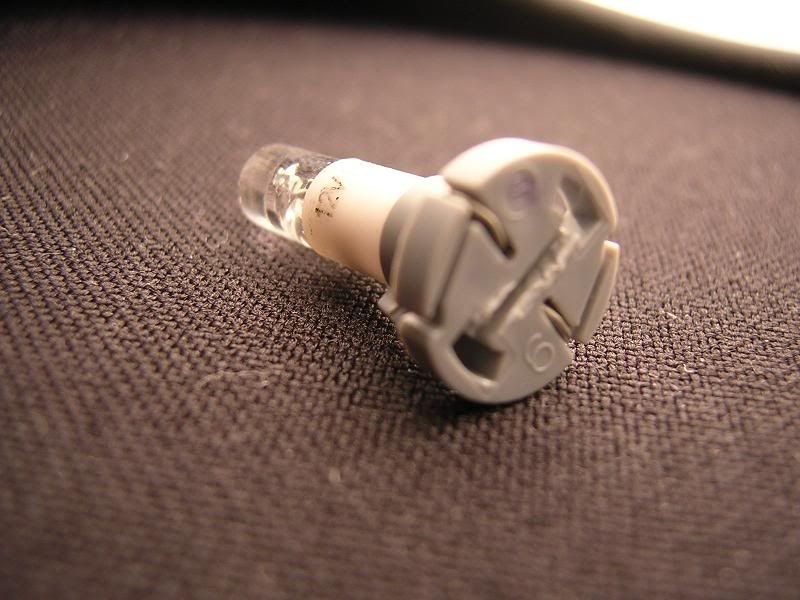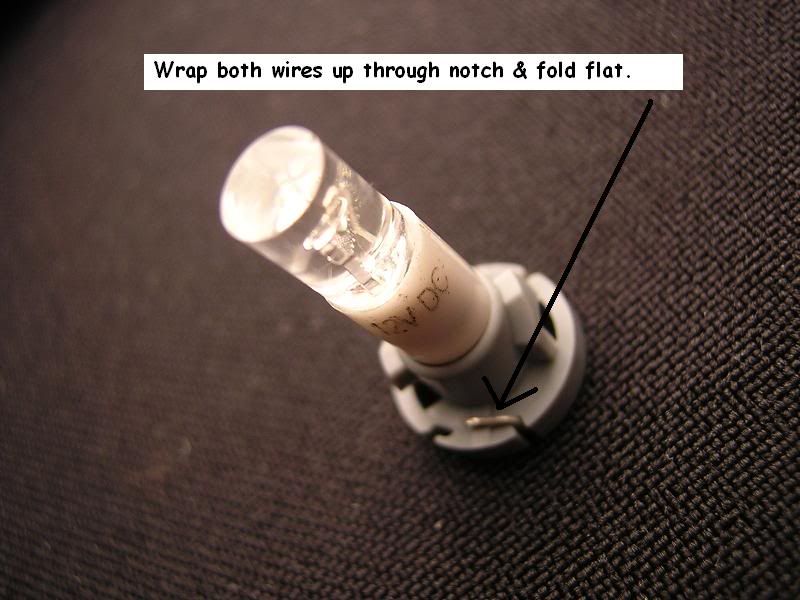 The LEDs are a bit longer than the factory bulbs. Use the sandpaper to remove about an 1/8" to 1/4" off the end. (Dremel would probably work too.) MAKE SURE YOU DON'T EXPOSE THE SILVER FILAMENTS INSIDE. You may need to take them out & put them in a few times to get it right. (Once you know it fits I recommend scratching up the clear sides and rounding the top edges a little to help disperse the light more evenly.) Sorry, no 'pic.
Ok now, do all that again with the second light. I suggest testing at this point to make sure they both work before you reinsert them. (Just touch the metal wires on the top where the bits were located before.)
Reinsert them with a 1/4 turn to the right. Here's where we care about polarity again. One of those wires on the base is positive and the other is negative. I can't recall which was which, but trial and error will work here. (Hint use your tester to find which wire is + and which is -. When you insert them one side will have + up and the other will have - up.) Make sure the lights work before reassembling. You can test by reconnecting the 3 looms. Which is very awkward. Or you can use your nifty new tester instead on the copper at these two points.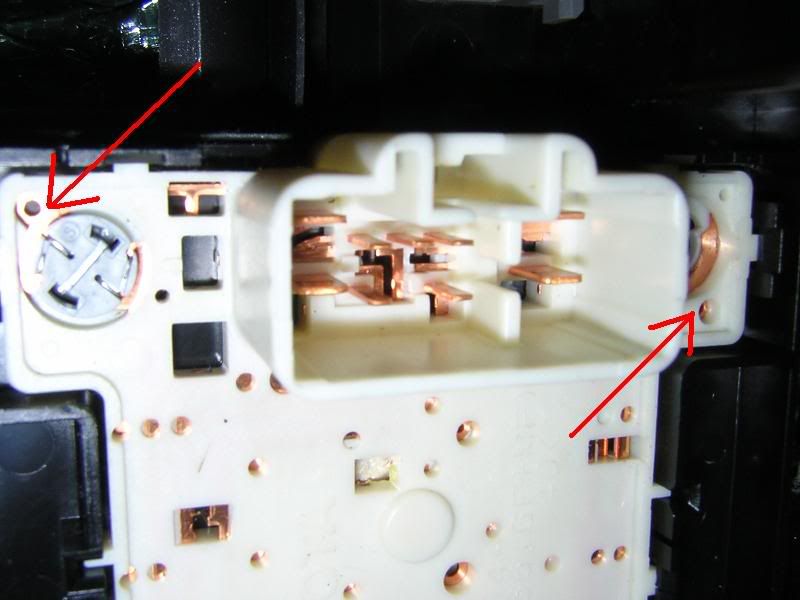 Much easier. (The copper acts as a conductor. BTW you need BOTH LEDs in to complete the circuit or they will never work. My friend and I started out trying to install and test them one by one.
)
After you've got both LEDs lighting up reassemble the center dash (reverse the directions above) and enjoy your new lights!
My camera doesn't handle night to well, but you can judge brightness by the stock radio (set on brightest level). Note with blue you can't see the red part of the dial.