Brake Pad Install ! D.I.Y. part #1
WARNING/CAUTION
YOU ARE SOLEY RESPONSIBLE FOR ANY MODS/WORK/ALTERATIONS, THAT YOU DO/PERFORM ON YOURS/HIS/HER PROPERTY. BY PRECEDING THESE MOD/WORK/ALTERATIONS, YOU HAVE TAKEN FULL RESPONSIBILITY & NO OTHER PARTIES ARE LIABLE. USE YOUR OWN DISCRETION.USE SAFETY FIRST.
Estimated time: 15 - 20 minutes per side
Tools needed:
Metric socket set = 14mm & 17mm
Metric wrench = 14mm
Large 'C' clamp
Jack stands = optional
Wheel chock = advised
1 Large container of hand cleaner
Pre-select a local shop or Auto part store = to turn rotors after removed from the vehicle
Select a safe , level and hopefully fairly clean area to perform work.
First , chock the rear wheel, and remove one of the front wheels. I am assuming everyone knows how to accomplish this?
Using the 14mm socket and wrench, loosen the two 14mm bolts on the inside
of the caliper assembly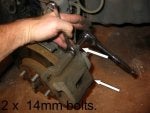 Remove the two bolts completely....
Then pull the caliper assembly out towards the front of the wheel well....
Now, in the engine compartment, find the master cylinder, located on the firewall driver side , remove the lid of the fluid reservoir. This is to assist the next step.
Now take the caliper assembly, rest it on the mounting bracket, careful not to twist or kink the brake line.
Use the large 'C' clamp, clamp from the back of assembly, and insert the threaded rod into the piston
Slowly and carefully tighten the 'C' clamp , compressing the piston, to make it flush with the housing, careful not to damage or pinch the piston seal:
Continue compressing the piston until it is completely flush with the housing:
Now remove the old pads from the caliper assembly, mark each one with a sharpie, as a reference to properly orient the replacement pads...ie Right inside--Right outside.
Now remove the assembly bracket, using a 17mm socket;
Once removed, you should now be able to remove the rotor, it will be tight, so tap it with a rubber mallet from the backside, it should pop out easily.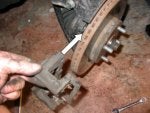 CONTINUED::::::::::::::::see part #2 on separate thread.