Discussion Starter
•
#1
•
I know when most of you think performance, you're thinking about going fast. But let's face it, our 108 hp, FWD, aerodynamic barn doors are about the poorest racers ever made.
99 wheel horsepower coupled to FWD means anyone with 90 hp and RWD will beat you. Anyone with 100 hp and FWD will beat you. Anyone with AWD will beat you. Darn near anybody driving anything will beat you. The only races you'll win are when the other guy is laughing so hard, you get a hole shot on him.
Bolt on a thousand bucks of headers, intake, and exhaust, and 99% of today's bone stock cars will still beat you, including every family sedan, taxicab, minivan, and SUV out there.
So let's talk about where a 1.5 liter engine shines - fuel economy. When our engines are warmed up, we burn .11-.14 gallons per hour idling - less than half of what a typical family car will drink. We can cruise all day at 35 mph and average nearly 55 mpg at that speed.
I've made a game of hypermiling my xB since I bought it over 17,000 miles and a year and a half ago. In that time, I've averaged 46.7 mpg under all driving conditions, including a 7200 mile cross-country round-trip to Miami in the Summer, with AC running and four people inside.
My last tank was my record distance tank, 554 miles on 10.547 gallons, for a 52.53 mpg average. How do I do it? Not with performance mods. My only mod there is
this WAI,
which didn't improve my fuel economy one iota.
I drive slow, and I drive smart. Stoplight drag racers typically get single digit fuel economy from light to light, and lower that even more idling. The average driver has his foot on the gas pedal half a block from the next red light. I've been gliding to it for three or four blocks. I let the jackrabbits trip the sensors, and try to glide through the lights without touching gas or brake pedals.
Our boxes are aerodynamic barn doors. Push them over 55 mph, and fuel economy plummets. At 70 mph, I get 32 mpg. At 55, I get about 45 mpg. At 31 mph, I get 55 mpg. So I go slow on highways, and prefer to take slower frontage roads.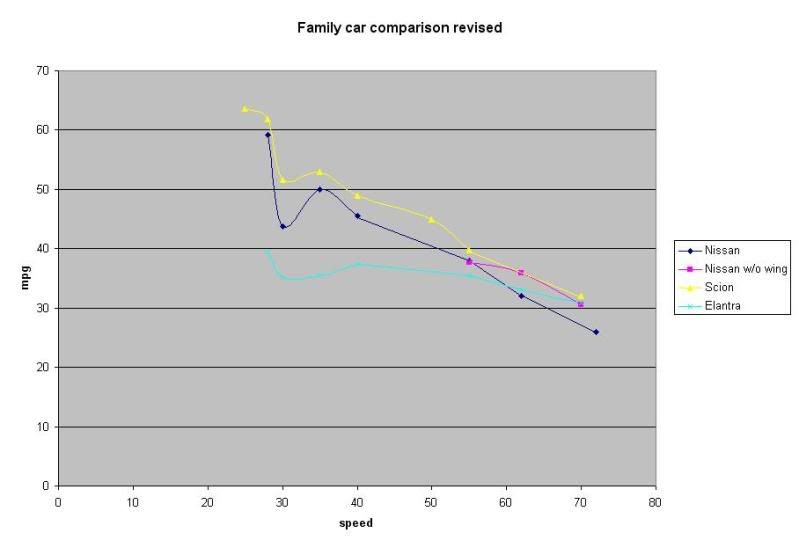 80% of my mpg gains come from going slow. Questions?